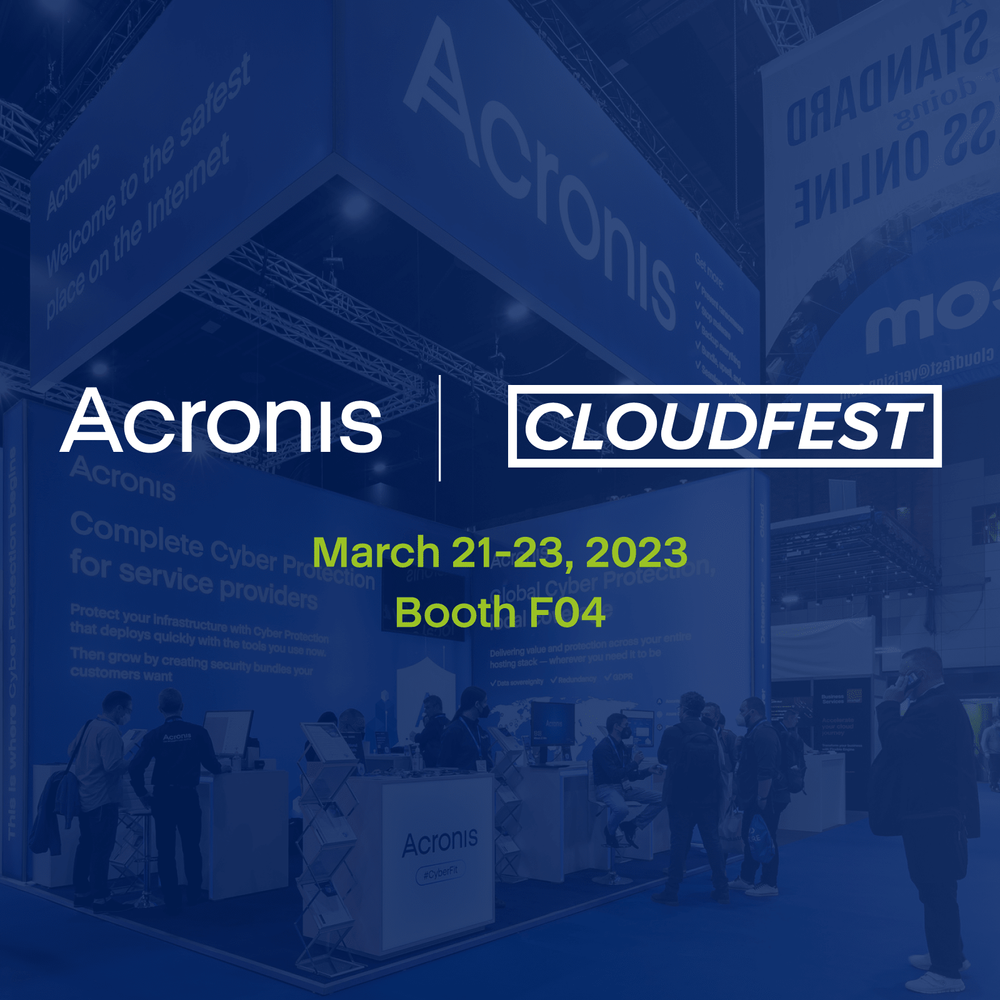 Now is the perfect time, CloudFest is the perfect place
Meet Acronis at the booth F04
March 21-23, 2023
Get your free Expo pass, by registering here with a free code: 5FPu7Zu5

It's time to get together once again at the world's greatest event for hosting and cloud. Acronis is proud to sponsor CloudFest 2023, from March 21-23 in Rust, Germany.
We invite you to meet us at the show and explore Acronis Cyber Protection solutions designed to empower Service Providers into the future with a complete cyber protection solution built by Service Providers. We will be waiting for you at booth #F04.
Get your CloudFest badge now by registering here with our free code 5FPu7Zu5
Book some time 1:1 with us at CloudFest
Come discuss your unique business needs and goals, learn what it means to be #CyberFit and discover how active Acronis cyber protection Acronis solutions can deliver superior protection from modern cyberthreats while boosting your customer loyalty and MRR.
Don't miss Acronis' workshops at CloudFest
Register here for the workshop "When the Machines Attack: Cyber protection in the age of AI". In this provocative session, Candid Wuest, Vice President of Cyber Protection Research, Acronis will show you what his cyber protection research team is monitoring now and how they are preparing for the Rise of the Machines. If you want to understand latest cyberthreats you won't want to miss a minute of it.
Register here for the workshop "Move the Needle: Build upsell packages that convert and stick". In this workshop, Hannes Migga-Vierke, VP of Global Marketing Operations and Demand Center from Acronis will show you what works and how you can copy their success.
See a live demo at our stand
You simply have to see it for yourself.
Our solution engineers will be mobilized at CloudFest to show you how the all-in-one cyber protection works. Backup is just not enough. You need a comprehensive Cyber Protection solution – all via a single agent and one UI. And Acronis is already integrated with the tools and control panels you use now for seamless deployment.
Acronis sessions and presentations during CloudFest 2023